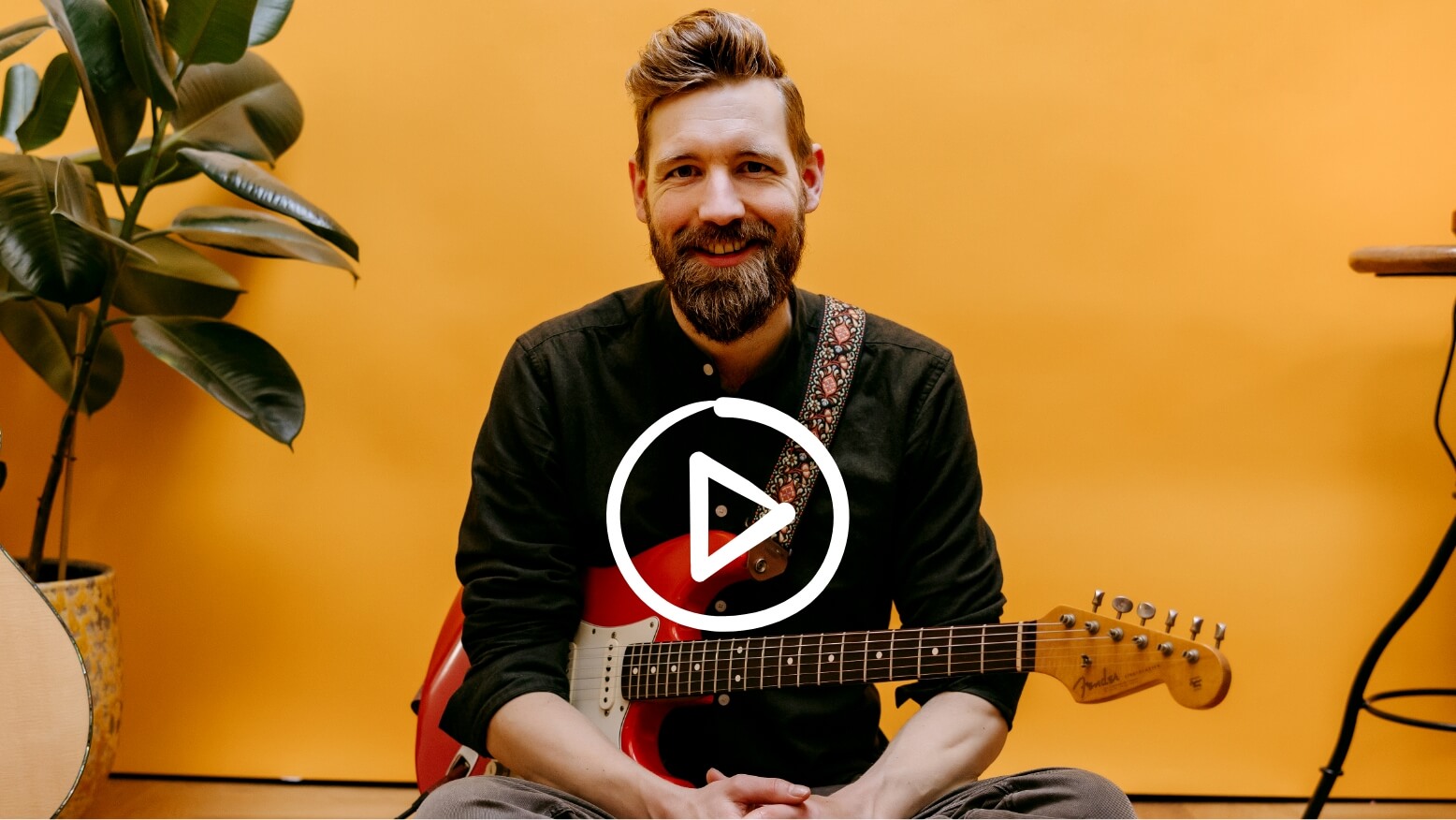 Learn guitar looping the simple way, layer by layer, with in-depth instructional videos, original loops, bonus challenges, PDFs with tabs, and more…
Learn at your own pace with full lifetime access to all course materials, plus you'll be protected by a 14-Day Money-Back Guarantee
Master the pedal, create gorgeous loops,
and become your own band
From the Studio of Paul Davids
Rotterdam, The Netherlands
Playing that seamless loop is an incredible experience.
First you might lay down a simple, playful rhythm with just a handful of notes…
Then, you work in a little harmony – nothing fancy, but something that somehow grabs your ear.
After that, you add a little spice to it with some rhythmic strumming, and the energy of the loop really starts to build.
With every layer, you add richness and flavor, but you're still leaving room to grow.
Everything you play has a reason for being there. The rhythm department is tight and in the pocket, and your voicings meld together to sound as one.
When you finally start soloing over this warm and energizing backdrop, everything comes together beautifully.
After holding back for so many layers, you can finally open it up and go all the way…
And the result is a beautifully simple yet complex piece of music.
When you're looping, you can let yourself get lost in the music… and the possibilities are endless.
It sets you on a journey of discovery, completely free to express yourself through the strings of your guitar.
Because when you're looping, you aren't just creating beautiful music – you're becoming an entire band, from soloist to rhythm section, all on your own. It's like conducting your own symphony.
And all of this makes looping one of my absolute favorite things to do on the guitar.
But unfortunately, lots of guitarists never get to experience this…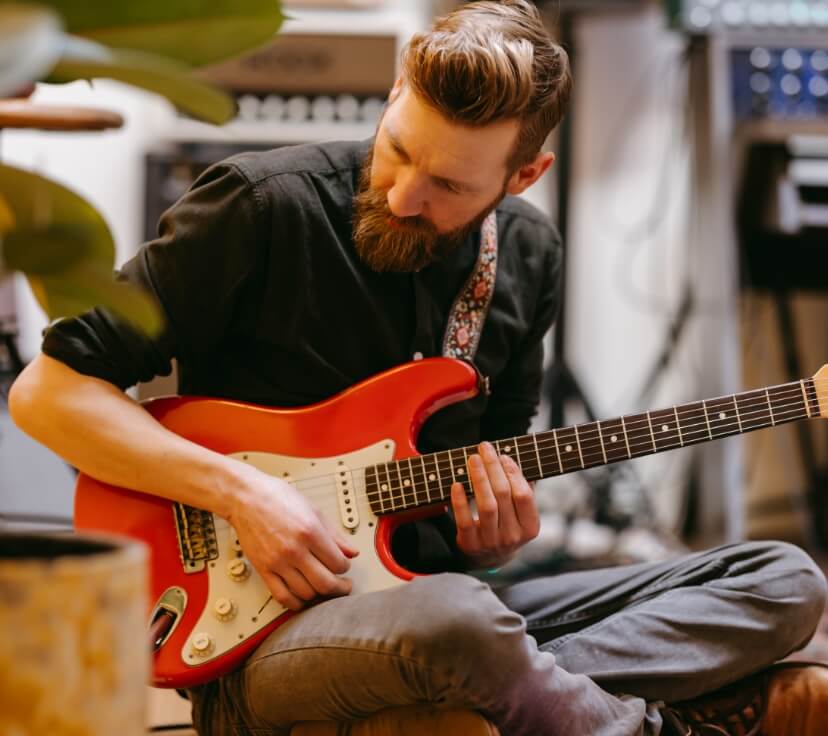 What keeps guitarists from looping?
It's a joy to watch live looping in concerts, and most guitarists have probably been mesmerized by watching videos of great loopers online.
And yet, many guitarists haven't experienced the joys of looping for themselves.
For some, guitar looping feels a bit complicated or confusing.
They aren't sure how to get started and worry the gear might be expensive (Side note: it doesn't have to be).
It can seem almost overwhelming to try to figure it out alone, so they never give it a shot.
And for many other guitarists, previous experiences with looping have been frustrating and uninspiring:
They've struggled with keeping a steady rhythm, and have trouble getting the timing of different layers to match, so their loops get messier with every layer…
They have trouble creating layers that work well together in a loop, and end up with notes that clash against each other instead of blending beautifully…
And sometimes, they have simply run out of ideas for what to do next
For all of these reasons, lots of guitarists leave their looping pedal on the shelf – or never get one at all.
And they don't realize the fun of guitar looping is already in reach.
The surprising truth about looping…
The good news is, looping doesn't require any crazy technical skills or musical genius.
All it requires is a bit of guidance and strategic practice.
In fact, looping is something that any guitarist
can learn – and it's easier than you might think!
All you need in order to get going is your guitar (acoustic or electric), the right basic setup (nothing fancy), and an understanding of some key aspects of great guitar looping.
Because the difference between a loop that is "meh" and a loop that is incredible comes down to a few elements that you can learn, even if you're not an advanced guitarist.
And once you understand a few important fundamental principles, you'll be able to play incredibly sweet loops with endless possibilities.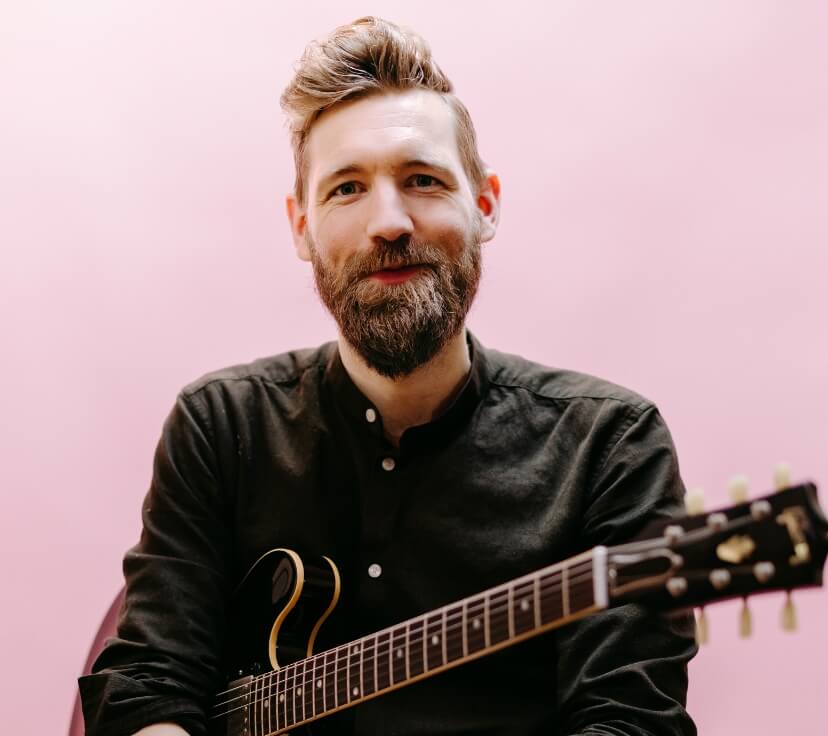 The magical ingredients of great guitar looping
Great guitar loops are crammed with creativity and overflowing with originality, but they all have a few fundamental elements in common.
These elements work together like "magical ingredients" inside the loop, bringing together parts that might be average on their own, but create an incredible effect when they're mixed together in just the right way.
So in order to create exquisitely inspiring loops, you'll want to focus on these five specific things:
For your loop to sound tight as you add layer after layer, you'll need to keep a steady tempo and make sure your timing is on the mark. This doesn't always come naturally, but with the right approach this is something almost anyone can learn.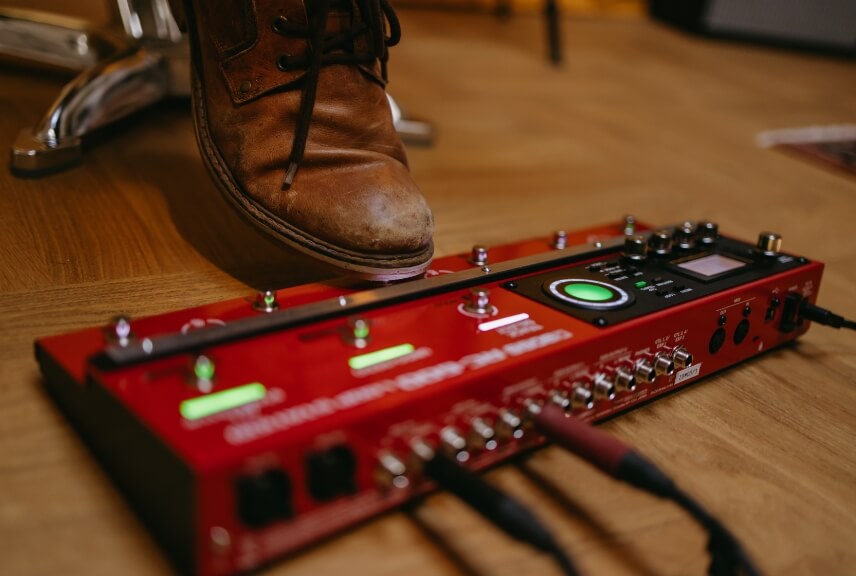 2. Fill the "Vertical" Space
When you're adding layer upon layer in a loop, think about all of the frequencies of notes available within the range of the guitar. Since voicings at the same frequency can clash with each other, create each loop layer at a different "vertical" level (i.e. low notes, middle notes, and high notes). That way, you'll fill out the full range of available notes in a balanced way.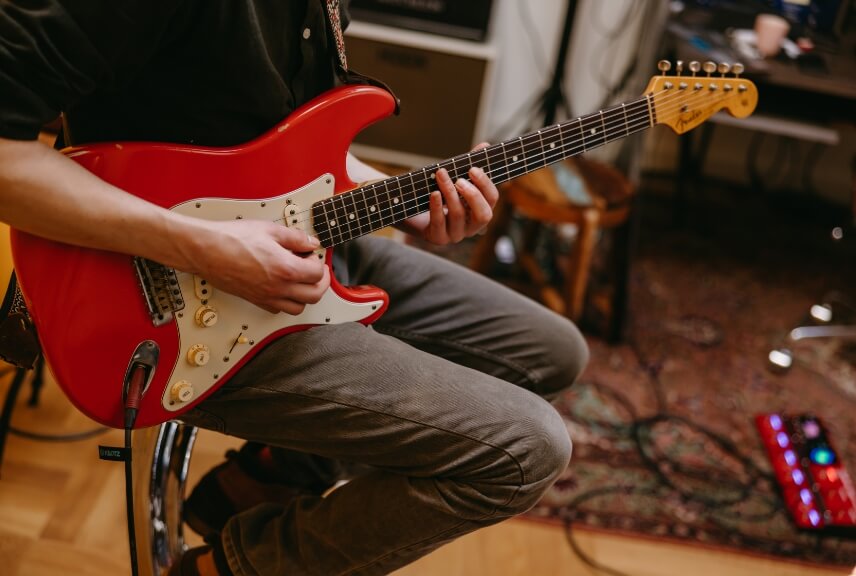 3. Fill the "Horizontal" Space
As your loop takes shape, make sure your rhythms fit together nicely, and balance out over time. Controlling how many notes you place in each layer, and at what point in time, will help to fill that "horizontal" space evenly so your loop can sound as clean as possible.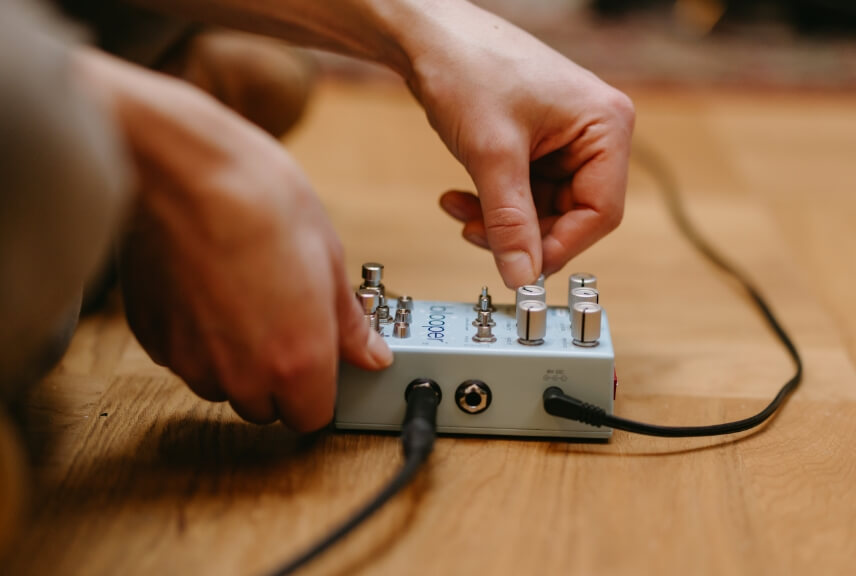 4. Add Percussive Elements
One of the best ways to add interest and texture to your loops is to add a little percussion. You can do this with a percussion machine but that isn't necessary – you can use your guitar to simulate sounds that have the same effect as drums or percussion, like the kick and the snare. This percussion effect works with an electric or acoustic guitar, and can bring your loop to a whole new level.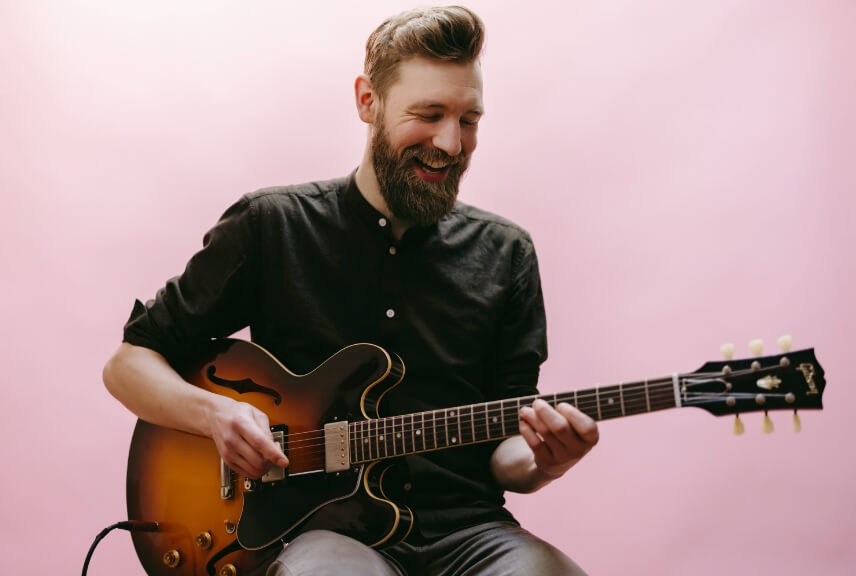 When you're building a loop by stacking layer upon layer, you'll want to make sure you don't peak too soon or make your opening too epic. Build up a bit more slowly, always thinking about where you want to peak, and leaving yourself somewhere to go in the next layer. If you stretch out this arc a bit, you can keep the loop sounding interesting for several minutes.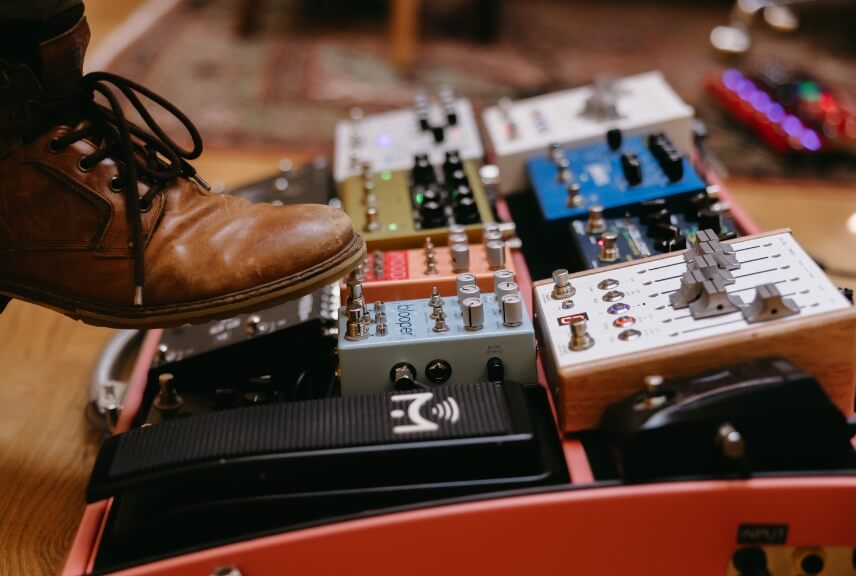 By keeping these five elements in mind, you can create a beautiful and balanced loop that will be mesmerizing to play – and to listen to.
And best of all, you can do it with simple layers, using the skills you already have now.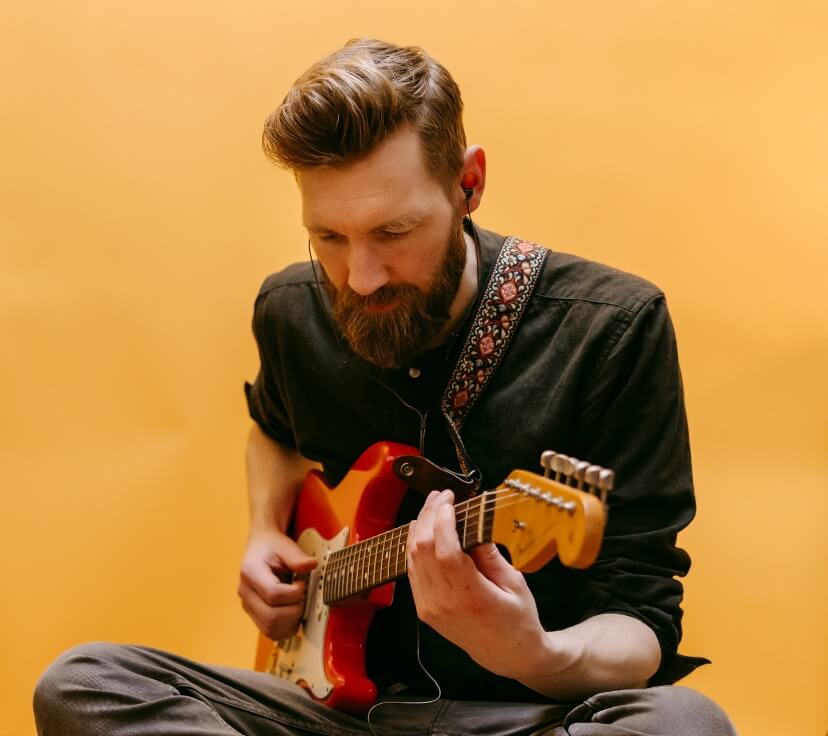 Taking the leap into looping
Now that we've gone through the ingredients of great looping, I hope you'll be inspired to give it a try for yourself – because with some guidance, it's truly easier than you might think!
Once you understand how these different elements work together, you'll be able to use the guitar skills you already have to create gorgeous sounding loops.
You'll be able to instantly pinpoint the issue when something isn't working, and you'll know how to fix it. And you'll be able to make amazing music like nothing you've heard from your own guitar before.
Not only will you become like a one-man-band for writing music – you'll also learn to think like a music producer and a mix engineer.
Because if you know what to be mindful of when looping, you can create complex loops even when each of the individual layers are just a few notes.
And the best thing about looping is that it is not difficult by itself – you can make it as difficult as you want.
Because when you're looping, you're the boss.
After years of performing and teaching guitar, I've come to see looping as a great way for every guitarist to improve, because it's not just about practicing – it's about making music.
And in the end, we all play guitar, not to practice, but to make music.
That's why I've put together a new guitar course teaching you how to loop, layer by layer.
I hope you'll check it out below!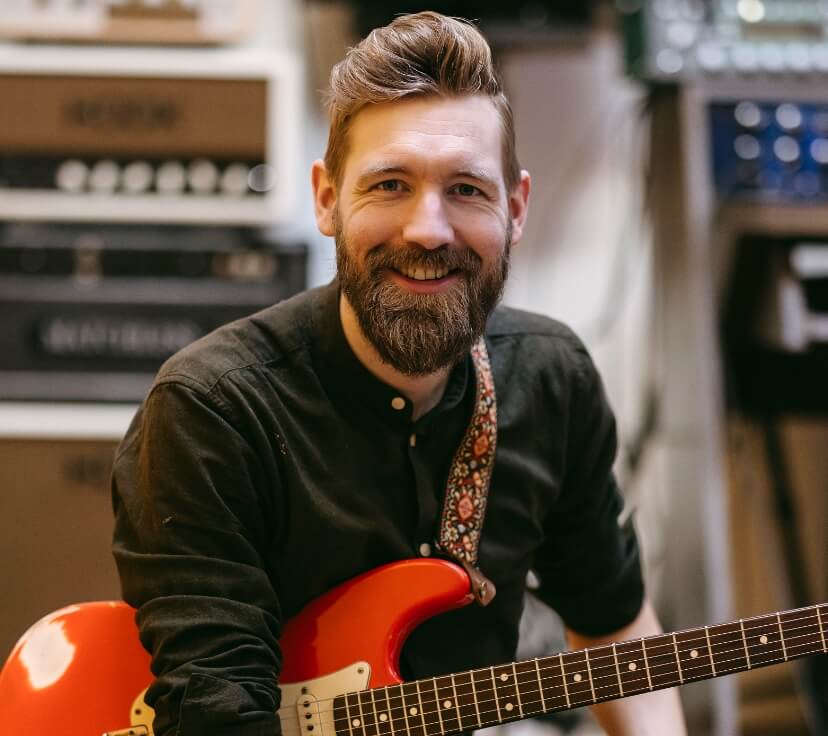 I've got a music degree in guitar from Rotterdam Conservatory and spent over a decade teaching private guitar lessons to students of all ages and styles.
These days, I share my love of guitar with people all over the world through my YouTube channel, with over 3 million subscribers.

A few years ago, I created my first online guitar course, called "Learn, Practice, Play," so that I could give more in-depth instructions (compared to my YouTube videos). It was so successful that I followed it up with an intermediate course called "Next Level Playing" and then a third course for acoustic guitar, called "Acoustic Adventure."
Now, I'm excited to introduce you to my newest course, which I made in response to the hundreds of questions I've received after posting looping videos on my channel. It's a super fun spin through guitar looping that will help you become your own band, regardless of your skill level.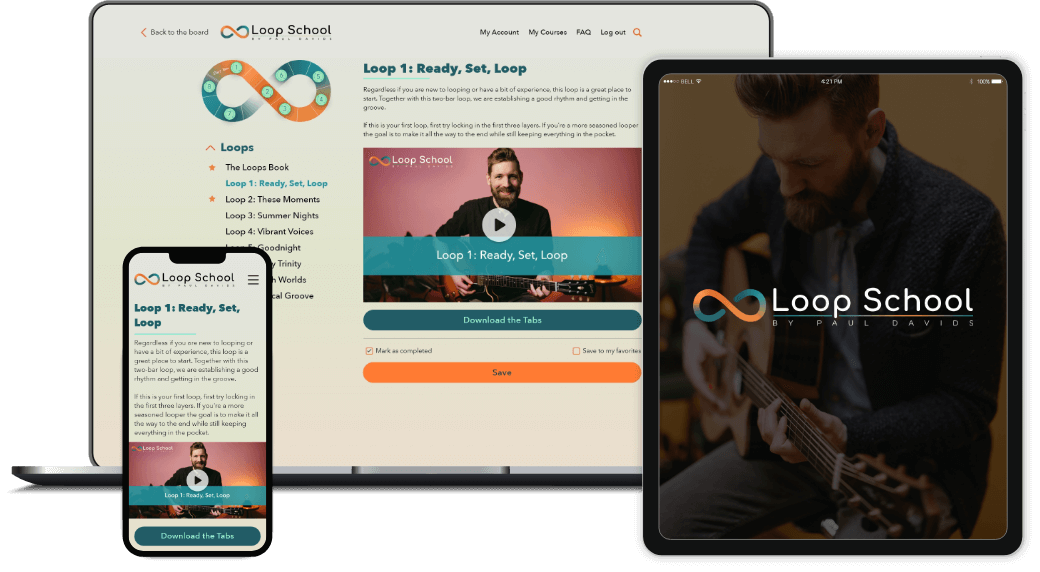 My course for guitarists of all playing levels, teaching you how to master the pedal and create gorgeous loops – layer by layer.
Using the skills you already have, you'll be able to unlock a whole new level of creative expression with your guitar and sound like your own band. All you'll need is your electric or acoustic guitar and one basic loop pedal, and you'll be on your way toward creating some of the best guitar music you've made.
By learning how to loop, you will not only improve as a guitar player – you'll begin to think like a music producer, grow into a better band member, and become an overall more creative musician.
As you go through the course, you'll learn the essential elements of looping by playing the original loops I wrote for this course. As we play through each layer together, we'll cover the fundamental principles of looping in a practical context – no abstract lessons here!
Walking through these beautiful loops step by step, you'll learn what to watch out for in each part of a loop, and how to effectively work past sticking points or challenges as they come up. You'll learn my favorite strategies for keeping your timing tight, creating layers that mesh seamlessly, and building an arc into your loop that will captivate any listener. And, I'll show you exactly what to work on so you'll never feel lost in your practice.
While having a blast going through this course, you'll gain a deep understanding of the elements of great looping so you can go on to create your own mesmerizing loops in no time.
Building your Looping Skillset
While working through this self-paced course, you will:
Learn the basics of looping, from buying and setting up the looper and using the pedal, to laying down a simple chord combination to improvise over
Create a strategic approach by thinking 3-dimensionally to fill the space in each layer, both by using the full range of the guitar (the "vertical space") and note timing (the "horizontal space") so that your layers never clash
Build fundamental timing and rhythm skills so you can craft loops that are steady over time and sound tight and in the pocket, layer after layer
Discover ways to add more interest to your loops, with percussive elements (to add a little flavor!) and an arc that leaves you room to grow
Express yourself creatively with awesome original loops from the course, and then with the loops you'll be able to create for yourself
Have tons of fun playing solo music that sounds like an entire band, with layers that mesh together beautifully, while playing your guitar more than ever before
Here's what you'll learn inside Loop School…
At the heart of Loop School are the original loops I wrote for this course. Each one has a different vibe so you can explore a variety of styles while you learn to loop in context. In addition to these gorgeous loops, you can also explore the Classroom, where you'll find instruction on some of the fundamental skills that underpin all of the loops in the course.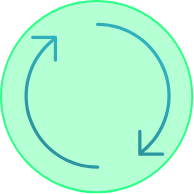 The perfect start for looping newbies, and a great test of timing for more seasoned loopers. This loop is easy on the ears and gives you a chance to hone your rhythm skills as you keep each additional layer as tight as you can. This will be the launching point for building a solid looping skillset!
Lovely on acoustic or electric, the heart of this loop is a basic chord progression in C Major that feels like it never truly resolves… and over the chords we'll play a riveting hook that is sure to catch your ear. This is the perfect tune for a lovely sunny day – just grab the guitar and noodle away!
This loop is calm from beginning to end, and the challenge is to translate that into your playing. The key here is being precise with your picking hand so you can keep your dynamics under control. This dulcet loop is the perfect canvas for solos and improv.
A loop that showcases the full richness of the acoustic guitar over 13 beautifully intertwined layers, with chords, melodies, plucks, slaps, and even percussive sounds. The trick with this one is keeping each layer in the pocket so the entire thing fits together perfectly.
This lullabye in 6/8 has a lovely mellow lilt, and I'll show you how to play it with a drop D tuning. I'll also show you how to integrate multiple instruments (like bass guitar!) to your loops, and how dynamics can make or break your loop.
This loop focuses on three essentials in music: the rhythm, the chords, and the melody. I'll show you how to set up your early layers using the "tresillo" rhythm, and make sure each additional layer fits with the groove – which is easier said than done! With a focus on voice leading, solos, and target notes for licks, this is a real toe-tapper.
This loop combines the acoustic and electric guitar, using the strengths of both instruments to create a uniquely engaging loop. To make the most of this one, I'll show you how to keep your timing tight so you can create the perfect backdrop for epic and heartfelt solos. This one uses basic ingredients to make an end result that is truly out of this world!
You'll get your picking hand in shape with this loop! A groovy 16th note pattern spells out a gorgeous chord progression in the key of D Major, and we'll layer on a down-to-earth rhythmic groove that really slaps. With a beautiful theme and muted chords, this is sure to be a favorite.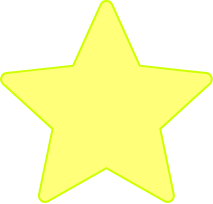 This section is all about the looper pedal. I'll show you a variety of possible setups and how to make the most of whatever gear you already have on hand. After we cover the basic setup, we'll delve into how to use different pedals like overdrive, reverbs, and octavers. We'll also talk about advanced loopers and using digital amps to the fullest. There's something in here for everyone!
Timing is the most essential element to great looping – it will make or break your loops! In this section we'll cover the most important skills you need to develop rock-solid timing, step by step. In addition, I'll share my thoughts on recording the first three layers of a loop, how to achieve perfection in looping (spoiler – it doesn't exist!), and how to develop the most solid rhythm you can.
When you're looping, it's vital to adjust your amp to the right settings so you can hear each layer clearly, without too much compression or "pushing." So in this lesson, I'll teach you exactly what to do to keep things simple and get a well-balanced sound whether you are playing chords or soloing.
To keep your loops sounding beautiful and uncluttered, you'll want to keep them as balanced as possible, without much overlap between notes in different layers. I'll share my approach for thinking horizontally and vertically as I build each successive layer. You'll learn how note ranges and rhythms can be used strategically to fill the space in your loops for a gorgeous and balanced sound.
What's more, when you join Loop School
you'll also gain access to these 3 bonuses:
Bonus #1:

Looping Creativity Challenges
In order to help you spark more creativity and learn to think more like a composer, I've put together three "challenges" to take your looping to the next level. I'll show you my thought process for how to turn one bar of a groovy tune into a wall of sound and how to use ambiguity to add interest to your loops.
In each of these three challenges, I'll start you off with a basic framework and then guide you through the process of making your own decisions so you can challenge yourself to start crafting and performing your own loops!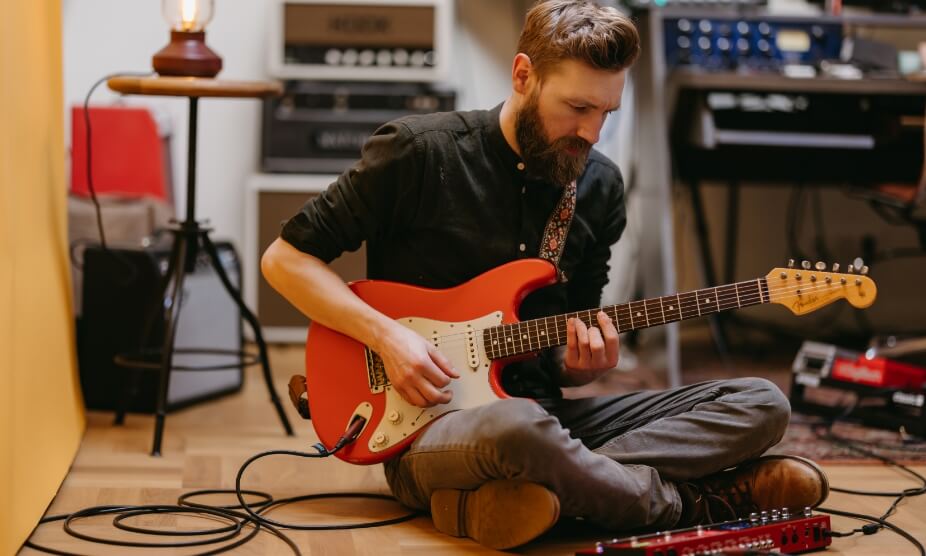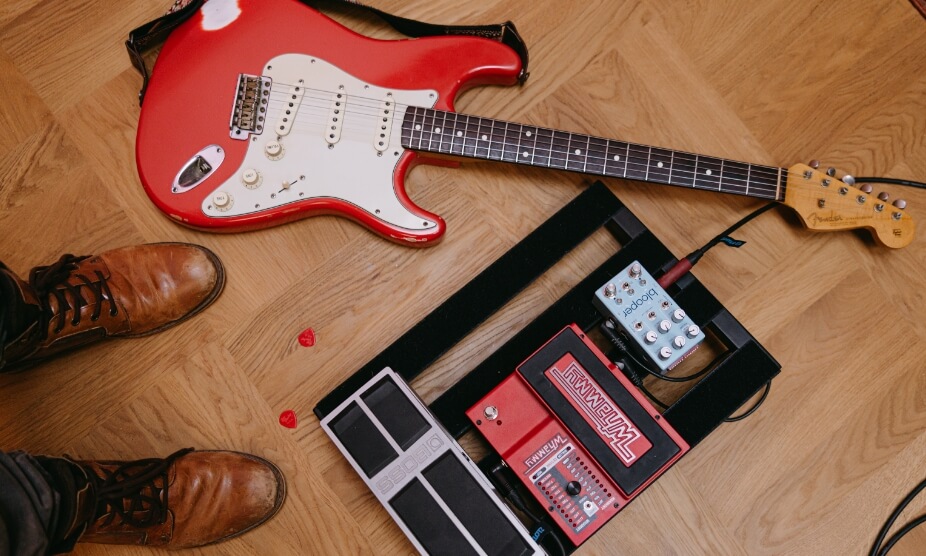 Bonus #2:

Loop School Q&A
In order to help you with questions you have while going through the course, my team collected members' most frequently asked questions about looping. I answer these questions in an additional video inside the course.
Bonus #3:

Loop School
Community Facebook Group
When you join this course, you'll get to connect with hundreds of other passionate guitarists inside the private Facebook community and exchange feedback, encouragement, and tips and tactics to improve your musical skills.
Connect with your fellow guitarists, share your progress, and share videos of your latest loops.
Get instant feedback on your looping from others in the community, so you can improve even faster.
Make friends with people just like you, building their looping skills, layer by layer, from every corner of the world and at every level of guitar playing.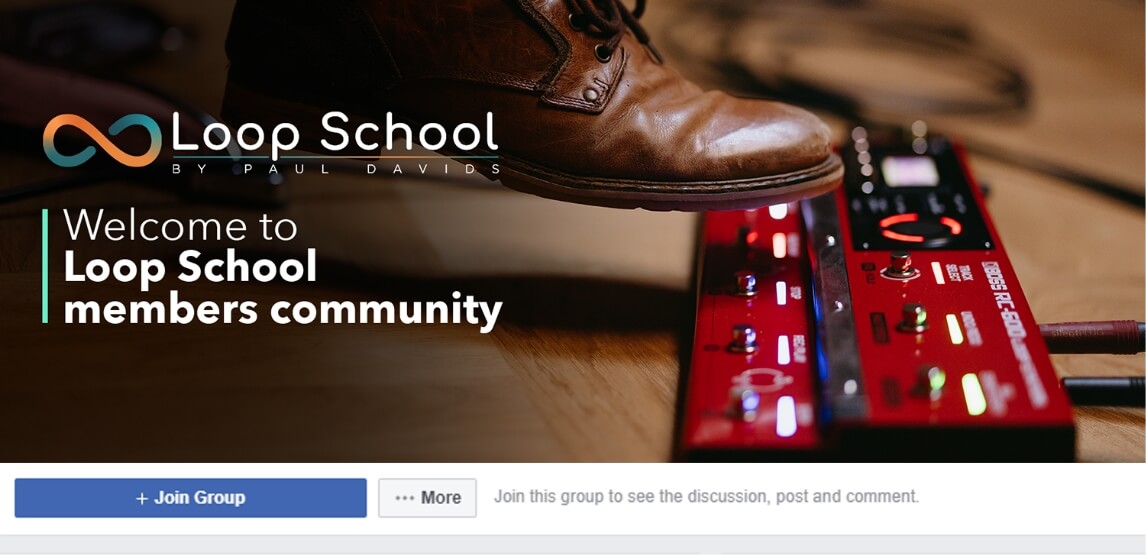 When you enroll in the course, you get lifetime access to all course materials.
8 Loops and 4 Classroom lessons with over three hours of video instruction
Bonus #1: Looping Creativity Challenges
Bonus #2: Loop School Q&A Video
Bonus #3: Loop School Community Facebook Group
Plus extras like lesson PDFs with tabs
To join, click the button below for instant access:


Plus, you'll be backed by…
MY 14-DAY MONEY BACK GUARANTEE
I want to give you the chance to try Loop School for yourself and start looping, one layer at a time.
That's why I'm giving you a full two weeks to give it a try and see if it is helpful for your level of playing and interest.
If you find the course isn't a good fit, simply email my team (team@loopschool.com) within 14 days and I'll refund your entire purchase, no questions asked.
Plus, you'll be backed by…
MY 14-DAY MONEY BACK GUARANTEE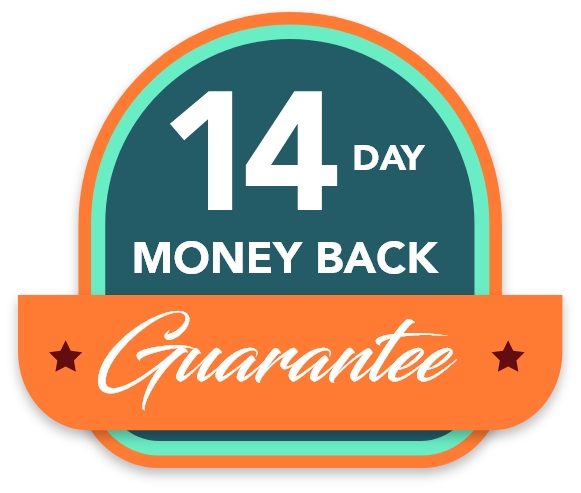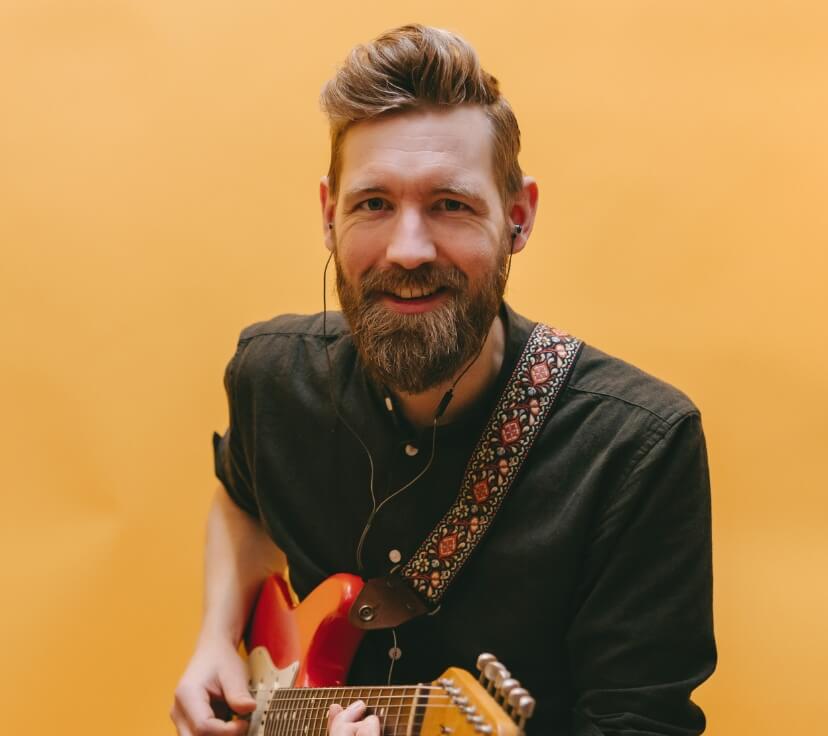 See What Students Are Saying About Loop School
Thousands of guitarists have already been through the course.
It's been awesome to see their progress and how their looping skills have improved dramatically. Plus, they've had a lot of fun!
Here's a little compilation of videos from a handful of Loop School students: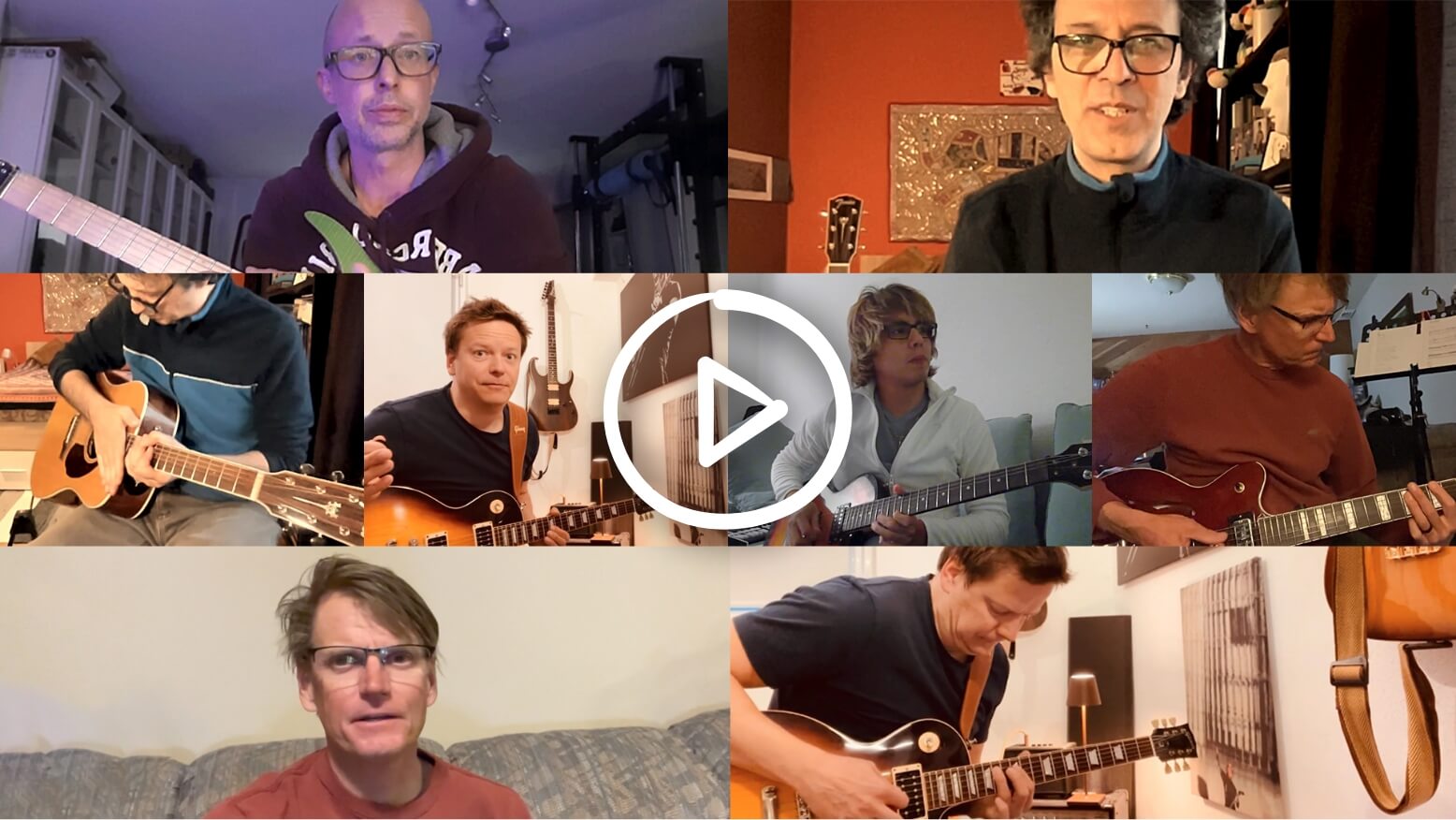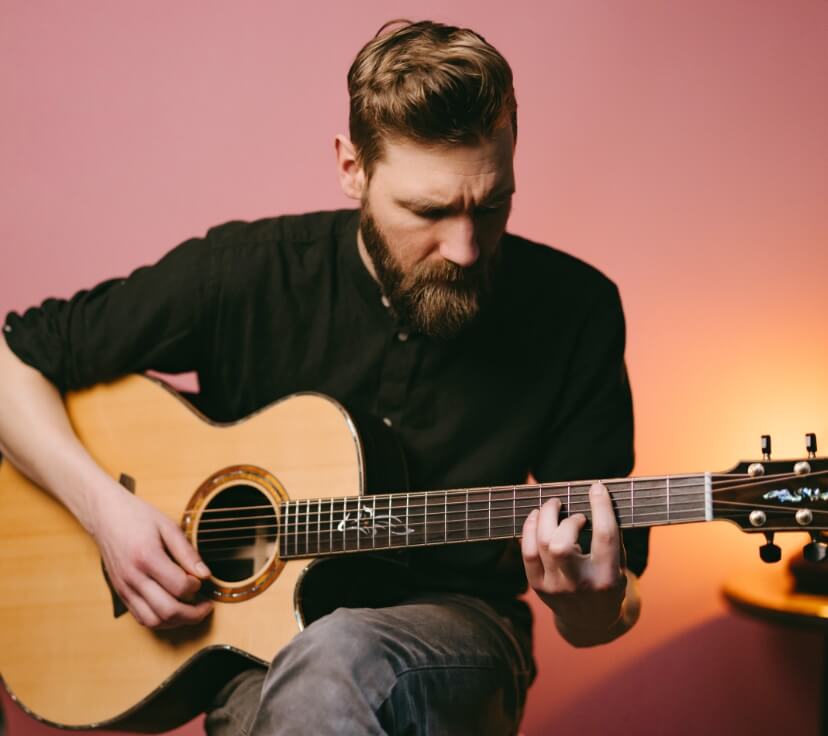 Questions and Answers about Loop School
Q. How do I know if this course is right for my level of playing?
A. This course is open to guitarists of all playing levels, from fairly basic to intermediate and advanced. Since the focus of the course is on the fundamentals of looping, this will not be a particularly technical course for the guitar. This course will teach you looping so you can then create your own music at whatever level you're comfortable with. Within the course, there will also be some opportunities to choose how basic or how fancy you want to get within the context of particular layers, so you can always choose to challenge yourself or keep it simple.
If you've taken any of my other courses – Learn, Practice, Play; Next Level Playing, or Acoustic Adventure – this course will be a great next step in your growth as a guitarist.
If you're not sure what level you're at, I encourage you to give this course a try. If you find it isn't a good fit, you can change your mind within the first 14 days for a full refund.
(If you're a true beginner and don't yet know basic chords or strumming/picking techniques, I suggest you start with Learn, Practice, Play and then return to learn looping once you've learned the fundamentals.)
Q. What gear do I need for this course?
A. Any looper will do. So if you have a guitar that you can hook up to the looper (acoustic or electric) you're good to go! Some loops might be better suited to electric or acoustic, but the majority of the course can be done on either.
Don't worry if you don't have a looping pedal yet, or don't know what to get – I'll walk you through the basics of choosing a pedal without breaking the bank.
Q. How long does this course take to complete?
A. This course contains approximately three hours of video content (not counting bonuses), but actually learning the loops can take as much time as you choose to enjoy playing them. With lifetime access to the course, you'll be able to revisit each section whenever you like.
Q. Do I need to be available at certain times to participate? What happens if my schedule gets busy?
A. Loop School is a self-paced online course, so you can go through the lessons at any time that is convenient for you. And because you get lifetime access when you join, you don't need to worry about your schedule getting busy. If something does come up in your schedule that prevents you from starting right away or slows down your progress, the course will always be available for you to pick up again whenever you can come back to it.
Q. Can I join using a payment plan?
A. To begin, as it's a new course, we're only set up to take a one-time upfront payment. But we might look to add this option in time. If there's no way you're able to sign up right now and you'd like to be notified should a payment plan option get added, please email team@loopschool.com with the subject line 'Payment plan'.
Q. What happens if I try the course but don't end up liking it?
A. If you find the course isn't a good fit, simply email my team (team@loopschool.com) within 14 days and I'll refund your entire purchase, no questions asked.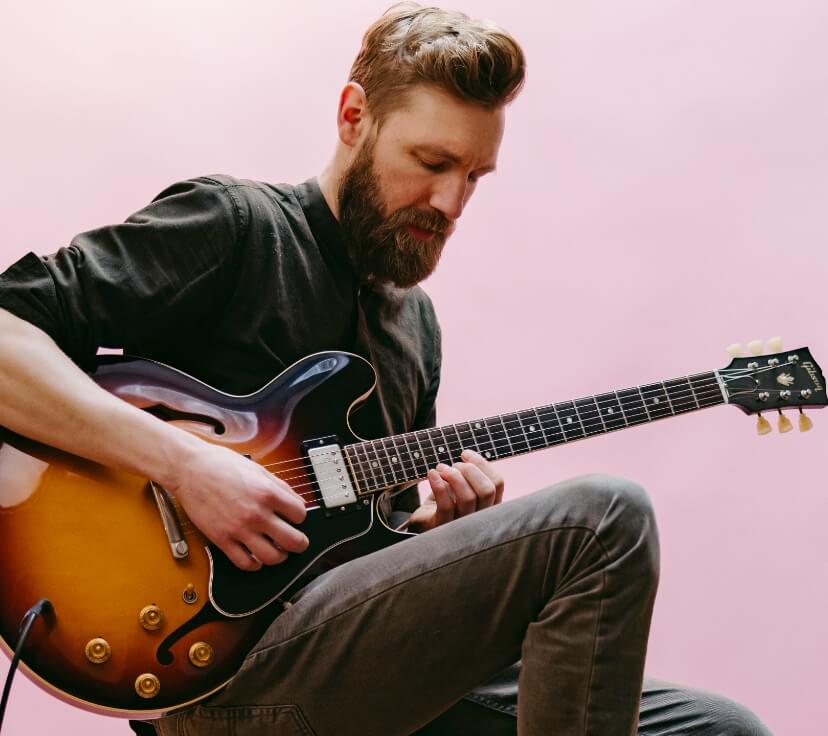 Is this course
right for you?
You'll know Loop School is a good fit for you if…
You've always loved watching guitar greats live looping on stage or on YouTube, and would love to be a one-person-band with your guitar in the same way
You've never tried looping and have found it a bit overwhelming or confusing, and need some guidance on getting started in the easiest way possible
You've tried looping in the past but have been frustrated with timing issues, clashing layers, and aimlessness, and need a step-by-step path toward a more balanced and beautiful sound
You're ready to become more creative and expressive with your guitar, and want to become your own "backing track" to jam with and create your own music
You want to have a lot of fun on your guitar, and become a better player and a more skilled band member while exploring endless creative possibilities
Join now and gain access to:
8 loops and 4 Classroom lessons with over three hours of video instruction
Bonus #1: Looping Creativity Challenges
Bonus #2: Loop School Q&A Video
Bonus #3: Loop School Community Facebook Group
Plus extras like lesson PDFs with tabs
To join, click the button below for instant access: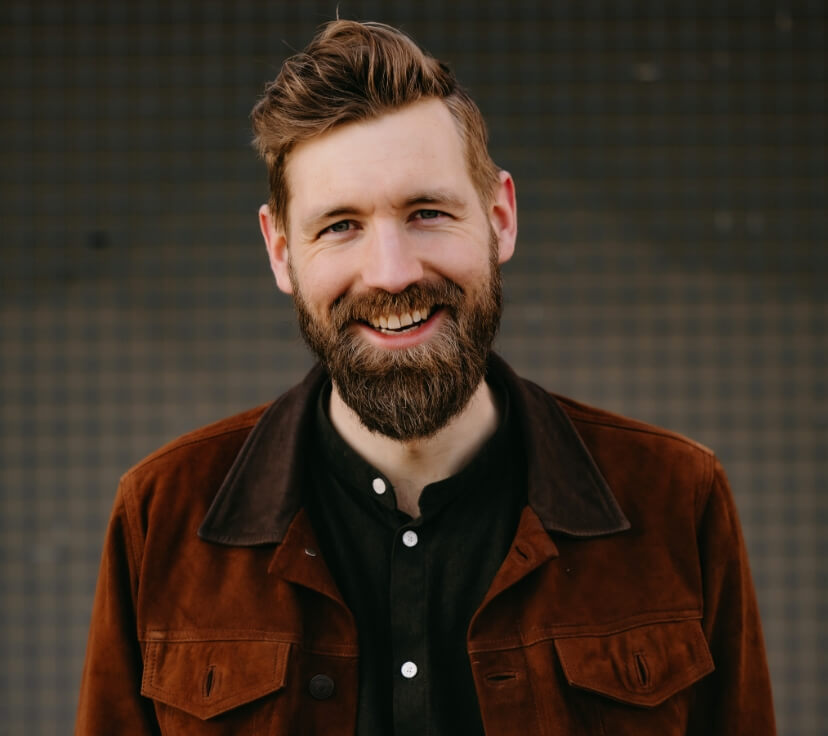 Guitar looping is one of the most enjoyable and creative things I've done with my guitar playing.
The way you can structure songs, building from nothing to an entire orchestra, is amazing – and you can do it with just your guitar.
What most people don't realize is, with the right kind of guidance and practice, anyone can learn to do looping well.
I'm excited about this course because it will help you build solid looping skills while creating exquisitely beautiful music.
And, it will show you how to get more out of your guitar than you have ever thought possible for yourself.
My hope is that you will experience the deeply rewarding feeling of creating a seamless loop, and that looping will become, for you, a creative pursuit with endless possibilities.
I hope you'll join me inside the course.